Products

The Company Orna Iplast Srl, founded in 1916 by the pioneer Aleardo Mario Orna as a manufacturing factory of galalith pens, is among the first industries which started processing plastics in Europe.

Thanks to the production flexibility, the company ORNA has obtained prestigious international acknowledgments, thus reaching a top position among the leading European manufacturers of Office, Gift articles and Drawing Instruments.

The continuous research, the use of exclusive materials and the particular care to design and details characterize all ORNA collections.

The company ORNA operates on various markets: Stationery market, supplying both Wholesalers and Qualified Retailers and Office Suppliers, Tobacco shops, through a network of Agents covering the entire domestic and foreign markets. For over 25 years the Company has also been present in the Hypermarkets field with a wide range of items.
A further commercial activity of the company ORNA is represented by the Industrial Channel with the jobbing on behalf of third parties of industrial articles oriented to the industrial, commercial and bank needs.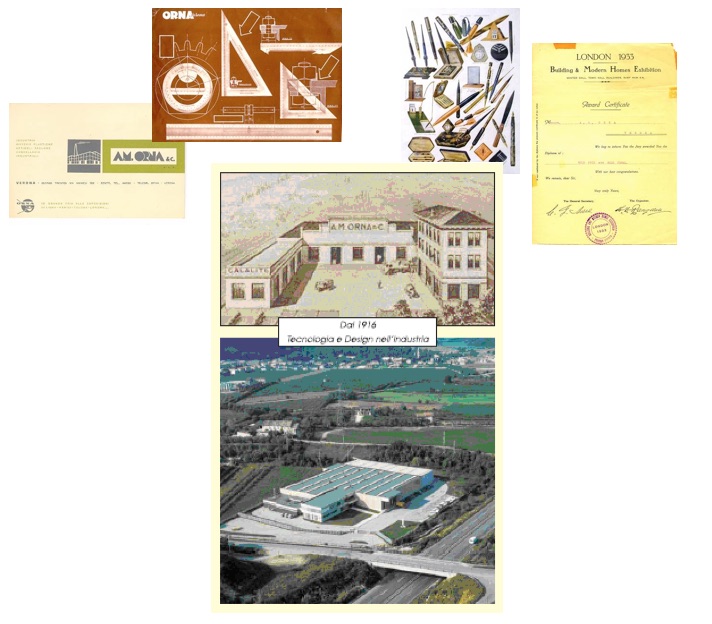 The Company's activities are carried out in the following production Divisions:
Electronic welding of PVC and thermo-processing of Polypropylene for the production of ORNA articles for Office-Filing, Promotions and Conventions, such as: Ring Binders, Pad Folders, Briefcases and Bags for meetings and sales networks, Desk Pads and Desk Sets, Telephone Books, Business Card Files, Key Holders, Calendars, Covers, Envelopes, etc.

  The Company's continuous research and know-how are employed also for jobbings, in order to meet all those requirements, which are not answered by the articles which are normally marketed. The products are processed by robot-aided machines and fully automatic lines, according to a company's  design of high production flexibility to meet the customers' demands with the best care to the quality, the competitiveness and the service.

Injection Moulding of thermoplastics (PS, PP, ABS, technical polymers, etc.) for the production of industrial articles satisfying the demand of various fields, from the food industry to the pharmaceutical industry, from the building industry to the car industry, such as: caps, containers, sections, pulleys, frames, supports, etc.

  The ORNA production also includes the manufacture of complete drawing instrument ranges with the trademark ORNADESIGN (rulers, squares, protractors, etc.). The above mentioned products are processed by fully automatic injection moulding machines equipped with robots for the automatic pieces extraction to keep a high quality standard and avoid abrasions and/or crackings and with a computer-aided quality control system to select the defective pieces or the pieces not corresponding to the pre-set parameters.

  Gift – Leather : since 2013 ORNA has acquired the well-know and historic "Munari" brand, enriching even more the presence on the market of office supplies and quality and style furnishings, with products entirely manufactured in Italy. The wide range of products in leather and/or leatherette includes Desk sets and Office accessories such as desk pads, note pad holders, document holders, ring binders, waste baskets, paper holder stands, letter openers.. .etc.

Conferences – Travel Items To complete the range of products listed above, the company offers also various collections with the brand "ORNALOOK" with excellent quality/price ratio, in resistant technical nylon and/or simil-leather such as Notebook Bags, Travel bags, Note Pad holders, Envelopes for documents with zip, etc. Personalization Service ORNA can personalize its products with own machines with the customers' logo through various printing processes: silk-screen printing, hot printing or high frequency embossing and offset printing.

For enquiries and/or quotation requests please contact us directly at: export@orna.it